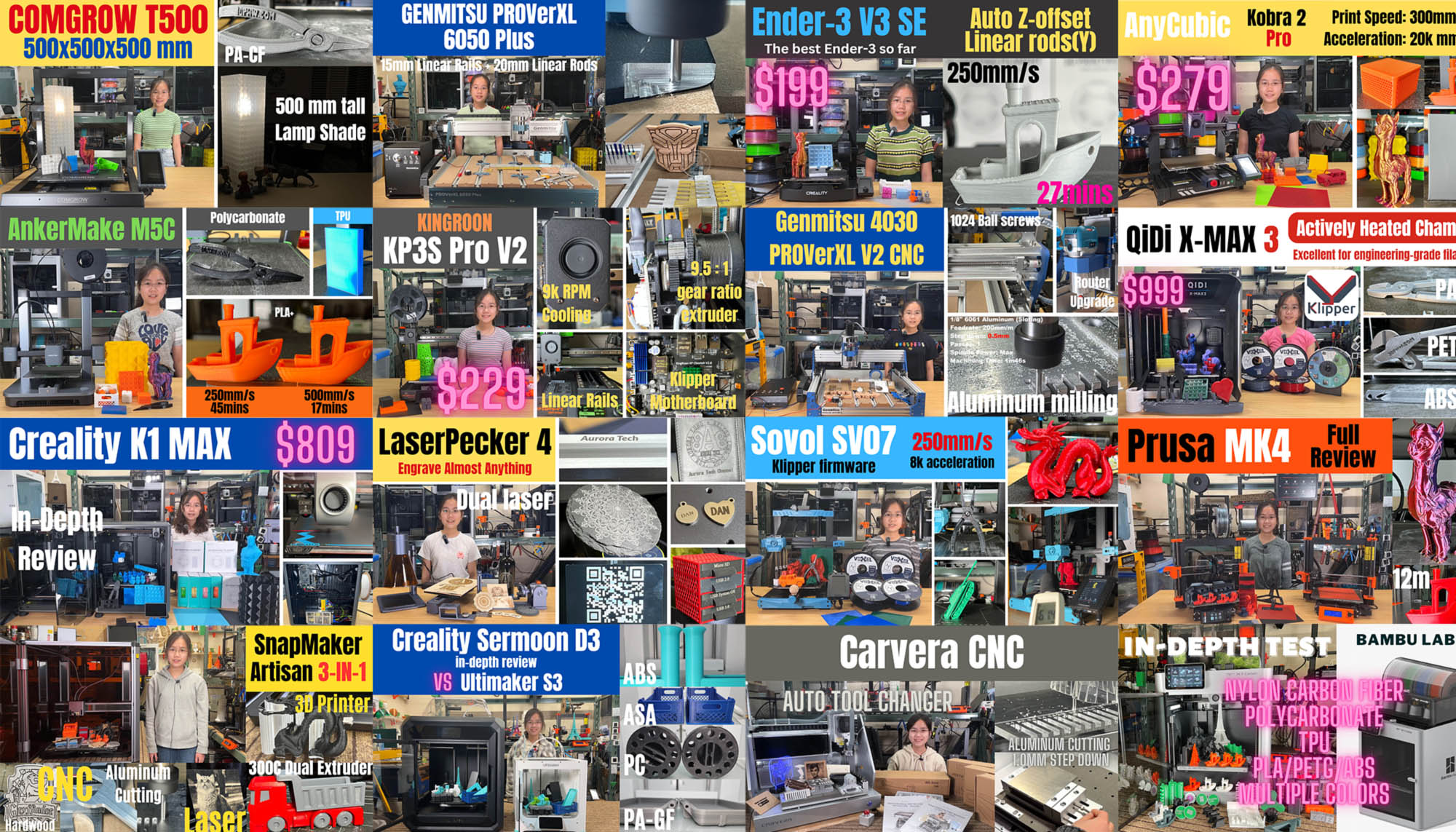 ---
3D Printer Price Tracker & Comparison (RESIN)
DRAG headers to arrange; CLICK headers to sort.
Use the Search box to narrow down your options. For example, you can enter Corexy Klipper
If you've found this Price Tracker useful, we would greatly appreciate it if you could share it with your friends. If you make a purchase through these affiliate links, you won't pay more, but we will earn a small commission. Thank you for supporting our channel!
| Image | Brand/Model | Review | Price | Price history | Discount Code | PrintVol(XYZ) | Resolution | Technology | Top Speed | Leveling | MotionSys | Air Filter | Resin Auto Feed | Print Mode |
| --- | --- | --- | --- | --- | --- | --- | --- | --- | --- | --- | --- | --- | --- | --- |
| | Elegoo Mars 3 4K | | $144.99 | $129.99-$154.99 | ELEM310 (save $10) | 143.4x89.6x175mm | 6.6" 4K | UV LED + Mono LCD | 50mm/h | Manual | Linear Rails | No | No | USB |
| | AnyCubic Photon Mono 2 | | $169.00 | $149.00-$189.00 | | 143x89x165mm | 6.6" 4K | UV LED + Mono LCD | 50mm/h | Manual | Linear Rails | No | No | USB |
| | Elegoo Mars 3 Pro 4K | | $184.99 | $149.99-$194.99 | ELEM310 (save $10) | 143.4.x89.6x175mm | 6.6" 4K | UV LED + Mono LCD | 50mm/h | Manual | Linear Rail | Yes | No | USB |
| | Elegoo Saturn S 4K | | $229.99 | $199.99-$229.99 | | 196x122x210mm | 9.1" 4K | UV LED + Mono LCD | 70mm/h | Manual | Dual Linear Rails | Yes | No | USB |
| | Elegoo Mars 4 Max 6K | | $249.99 | $224.99-$249.99 | | 195.84x122.4x150mm | 9.1" 6K | UV LED + Mono LCD | 70mm/h | Manual | Linear Rail | Yes | No | USB |
| | Creality HALOT-MAGE 8K | | $259.00 | $229.00-$284.25 | | 228x128x230mm | 10.3" 8K | UV LED + Mono LCD | 70mm/h | Manual | Dual Linear Rails | Yes | No | USB |
| | Creality HALOT-ONE PRO | | $259.00 | $99.00-$346.00 | | 130x122x160mm | 7" 3K | UV LED + Mono LCD | 50mm/h | Manual | Dual Linear Rails | NO | NO | USB |
| | Elegoo Mars 4 9K | | $259.00 | $249.00-$259.00 | | 156.36x77.76x175mm | 7" 9K | UV LED + Mono LCD | 70mm/h | Manual | Linear Rail | Yes | No | USB |
| | Elegoo Saturn 8K | | $299.99 | $259.99-$299.99 | | 218.8x123.1x210mm | 10" 8K | UV LED + Mono LCD | 70mm/h | Manual | Dual Linear Rails | Yes | No | USB |
| | Elegoo Mars 4 DLP | | $299.99 | $299.99-$399.99 | | 132.8x74.7x150mm | 2K Projector | DLP (Texas Instruments) | 70mm/h | Manual | Linear Rail | Yes | No | USB |
| | Elegoo Mars 4 Ultra 9K | | $309.00 | $299.00-$309.00 | | 153.36x77.76x165 mm | 7" 9K | UV LED + Mono LCD | 150mm/h | Manual | Linear Rail | Yes | No | USB, WiFi |
| | AnyCubic Photon Mono X 6Ks | | $329.00 | $269.00-$329.00 | | 195.84x122.4x200mm | 9.1" 6K | UV LED + Mono LCD | 60mm/h | Manual | Dual linear rails | No | No | USB |
| | Elegoo Saturn 2 8K | | $349.99 | $319.99-$349.99 | | 218.8x123.1x250mm | 10" 8K | UV LED + Mono LCD | 70mm/h | Manual | Dual Linear Rails | Yes | No | USB |
| | AnyCubic Photon Mono M5 | | $379.00 | $339.00-$379.00 | | 218x123X200mm | 10.1" 12K | UV LED + Mono LCD | 50mm/h | Manual | Dual Linear Rails | No | No | USB |
| | Elegoo Saturn 3 12K | | $399.00 | $339.00-$399.00 | | 218.88×122.88×250mm | 10" 12K | UV LED + Mono LCD | 70mm/h | Manual | Dual Linear Rails | Yes | No | USB |
| | AnyCubic Photon Mono M5S | | $479.00 | $419.00-$479.00 | | 218x123x200mm | 10.1" 12K | UV LED + Mono LCD | 105mm/h | Auto | Dual linear rails | No | No | USB, Cloud |
| | Elegoo Saturn 3 Ultra 12K | | $499.00 | $419.00-$499.00 | | 218.88×122.88×260mm | 10" 12K | UV LED + Mono LCD | 150mm/h | Manual | Dual Linear Rails + Ball Screw | Yes | No | USB, WiFi |
| | Creality HALOT-MAGE PRO 8K | | $509.00 | $479.00-$509.15 | | 228*128*230mm | 10.3" 8K | UV LED + Mono LCD | 170mm/h | Manual | Dual Linear Rails | Yes | Yes | USB, Ethernet, WiFi, Cloud |
| | Elegoo Jupiter 6K | | $890.00 | $790.00-$990.00 | | 277.84x156.06x300mm | 12.8" 6K | UV LED + Mono LCD | 70mm/h | Manual | Dual Linear Rails + Ball Screw | Yes | Yes | USB |
---